The blowing up of the Subscription box business in the past decade is a testimony to its countless possibilities, which is why the online marketplace has experienced a tremendous shift or transition in e-commerce trends.
Whether you are an SMB owner, who is willing to expand products and/or services into subscription services or an entrepreneurial-minded person who is thinking about starting your very own monthly subscription box and doing business out of it – you need to know and understand these industry trends.
Investing without a clear understanding may lead to massive loss of time and money and that is why we are here to assist and won't let your valuable assets drain like this.
Blueprint to Build a Profitable Subscription Box Business Model
1. What to Offer?
There are a lot of subscription box ideas available on the internet. However, setting a foot on an unplanned journey won't take you too far.
The need for a proper plan of action is of extreme importance and must be taken care of right from the beginning. Which is when you start drawing out the idea behind what you would offer in the subscription box.
For Example:
If you are a fitness freak, starting up a fitness subscription box will work in the best of your favor as you can use your in-depth knowledge about this particular niche to upsell your box. Curating personalized diet plans, workout regimes, along with protein and fitness supplements and workout gears can contribute to an exciting creation of a customizable subscription box, which can be quite appealing to all those who're aiming to achieve fitness goals.
For existing business enterprises, an important point to consider would be if they would like to continue with the existing product that they deal with or come up with a new idea to convert into a subscription-based service. Whatever be the choice, the idea must always be backed up with a logical approach and practical implementation of the existing trends and market choices.
It is always about AB testing – whether A works better or B. Think logically and experiment as much as you can. Only picking up the right product will result in better returns and long-term customer commitments.
2. Select a Niche
So you have decided your product/service category. Now it's the right time to narrow it down to a subcategory or a specific niche.
Your next question is probably going to be why? That's because it's always wise to stand out from the crowd. There are tons of other fitness subscription boxes, so why would the consumer choose you? That's the question you need to ask yourself! Providing customers an experience that is both incredible as well as different, will always make you stand out from the rest of your competition.
This is what you call your USP or your unique selling point. For example, the USP of your subscription box could be the relationship you create with your customer throughout their fitness journey by being a part of it.
Meaning, you send more personalized boxes – if a particular subscriber has started with you on weight 200 lbs and by the second month, has reached to 180 lbs, congratulate and change the diet, supplements, shakes, regime, etc. in the box that you send in the second month.
Takeaway:
Personalization is one of the biggest keys to be unique and endearing to your subscribers
3. Define Buyer Personas
From the above two steps, you will get a rough idea as to what type of people would subscribe to your box. That brings us to the next phase – defining the exact target audience. This subject is directly related to determining your subscriber base. It is as important to know your potential customer and then target them, as it is to finalize your business idea. In the case of existing business ventures, they would already have a predefined target audience.
For a subscription box business startup, it is foremost to identify with the kind of audience who would like to, or already deal with such products. The next step would be establishing one on one contact with them by engaging in interactions and understanding their needs, challenges, expectations, and goals. This can be done by conducting surveys or collecting feedback.
Create an overall buyer persona (customer profile) by writing down all the similar patterns (most of the people may face common challenges and that's why they bought or will buy your product.).
Now have well-defined customer data.
After understanding the problems of these potential customers, determine whether your product can solve them and encourage these consumers for a monthly, quarterly or a yearly subscription. Look for what is the specific need of subscribers that is still missing in the industry?
Ask friends and family, and consider using online services to host surveys. Jot down all the essential factors and create a precise profile of your possible clients.
4. Competitive Analysis (Be like James Bond)
The presence of competitors must not necessarily intimidate one. It rather pushes one to establish their profitable niche. A competitor analysis is an essential phase of creating a robust subscription business model. With this evaluation, you can determine what makes your subscription service unique.
Run an In-Depth Analysis:
Who are your competitors? What makes their subscription box services unique? What potential opportunities do they create that are also available for you?
Identify your exact competitors and evaluate their strategies to determine their pros and cons relative to those of your product or service.
5. Your Product (Think Inside the Box)
After understanding your potential customers and existing competitors, you need to make a difference by adding more value to your product. From box design, no. of products, combinations, personalization to packing – zero in on everything.
Takeaway: Keep it simple, but impressive – do not overdo it still, think of it that way – how would you have liked it if you would have opened a box like that? Surprising and overwhelming enough? Yes? Then bang-on! You've done it right!
Also, the pricing of your subscription box is a critical factor: If you set the rate too low, it might get underrated. A higher price in comparison to the market price might shoo your customer away. Wondering how to go about it?
Let's Understand!
Do you know why customers like to buy premium stuff from Apple and Starbucks?
What makes them so much more profitable than their competitors?
The answer is "experience."
We have become a society of consumers, who will love to pay extra if we are made to feel special. Well, again, personalization is the key! Remember your name simply handwritten on your favorite Starbucks coffee cup?
Personalize, assemble and customize your subscription box service in such a way that each of your subscribers feels that you've taken all this pain particularly for them and that's just the perfect fit for them.
The best way to overcome pricing issues – "Sell Experiences, not Products."
Last but not the least, don't forget about product safety. If someone receives a faulty product, it crashes down your market value and brand reputation. Make sure you solve customer issues on priority.
6. Compile a Prototype Box
Even before you launch your product, you can put together a prototype box, which will help you to introduce your potential customers to the kind of products they would receive on a periodic basis. The contents of a prototype box might not exactly be the same as your original subscription box, but they must match the quality, quantity, and worth of the original products that you would launch in your subscription box.
The prototype box would help you to create an online buzz as the first step of your pre-launch stage.
Steps to Create a Prototype Box:
Product: select products that would be similar in number and match the quality of the original products of your subscription box. The idea here is to create an imagery of the kind of products that the customers would be receiving so maintaining standards would be very important.
Box: the sample box may differ from the original box, depending on the rate of your progress. It may be a simple cardboard box, if you still haven't received your original ones, along with your logo or branding specifications.
Photography: post taking care of some basic packaging, be sure of taking enough pictures, unboxing videos and product photography to create an exclusive prototype experience on the social media platform.
7. Building a Subscription Box Website
Your business is unique so it requires a unique presence on the web – a service page or landing page where you can list your box details, services (product and offers). After all, this is going to be your storefront. Just like you would have thought about the architecture and interiors of your physical store, think the same way for your website too.
The ultimate goal to build a subscription-based website is to define an online place where your potential customer may visit, browse the catalog and then shop.
Now, you know might be wondering – where to set up your webpage. Here is the list of best eCommerce platforms for a subscription-based business:
Cratejoy Development service
Shopify Subscription
Magento
WordPress Subscription Box
Subbly
For a General Idea:
Some choose Cratejoy over others while some set up their subscription box service website on WordPress. There is no need to follow anyone blindly. Choose the appropriate platform as per your need and pocket size, or you can also consult or hire professional help from proactive Subscription Box website design and development companies, who help you launch your own subscription business websites.
8. Be an Early Bird (Pre-Launch Marketing)
Now that you have a clear idea of how, and where to start, it's now the right time to log on to your social media accounts to create a maximum online presence before your launch and get into engagement with your possible clients.
Start portraying your skills by highlighting what makes your box special – about 2 months before you hard-launch.
Set up your social media channels for your subscription brand and start engaging with your target users, collect their feedback and work on that feedback to give the last finishing touch to your box. Once you've gained the interest of your target audience, the next phase is to convert some of them into leads by gathering their contact information. At the very least, you'll need their email IDs.
For your visitors to offer up that email address, willingly, you'll need to present them something valuable in return.
Conduct surveys, run contests, declare and pamper winners, offer free limited edition small box or gift cards, take early subscribers by taking your users to your website for subscriptions, offer early-bird discounts, and so on. These will encourage the users and keep them excited about your upcoming launch. And will also help you grow your email list, your social accounts followers.
Quick Tips:
Pay attention to those social media sites that your target audience use the most in their everyday life. The objective is to create a strong presence at the right location and right moment.
Grow an active list of email Ids, subscribers before starting the launch or pre-sales process.
The open rate of mail campaigns is less than 10%. If you email-market your product to 1000 people – only 100 of them will open your mail and just a few of them will be interested in subscribing to your package. Be patient and focus on growing the email list and social media subscribers.
Once you acquire a decent database of email ids and build up your social media presence, start pushing your product through email campaigns.
In case you struggle with getting the attention of users, in the beginning, there are some market experts – some specialized subscription box marketing companies that can boost your early subscriber numbers. From spreading the quick word-of-mouth, running converting social media campaigns to actively influencing subscribers for your product, make sure you choose the right marketing partner.
9. Shipping
Shipping can create or crash your business reputation in many ways. If you select an inappropriate shipping partner, your customers may suffer from a miserable experience. So if you do not organize your shipping system, then you could end up in an unprofitable situation.
From the beginning, customer experience is in your control. For initiating a better user experience beforehand, you can adjust the online ads, modify images, optimize the landing page(s), and send customized emails.
However, once your subscription box leaves your side to be sent to the customer, you have now handed over your brand image to the hands of a stranger.
That concludes you should choose a verified and trusted shipping company. Offer your customers full transparency by giving proper product tracking options, return policies, etc.
These days, offering your buyers free shipping is becoming an increasingly popular choice and has shown a lot of potential in improving product sales. However, as you might feel, shipping is never free.
Someone always has to pay the price.
In this case, you can either consider including the shipping cost in the box cost or altogether, understanding your audience, analyze whether you should separately charge shipping or not. Additionally, you can also try offering free shipping on a minimum order amount.
Conclusion
Starting a subscription box service is a marathon run and not a 100m race. It is not a one-day effort. You have to work on it every single day despite of not seeing results instantly. But once it makes progress up to a certain phase, you can just sit back and watch your business grow.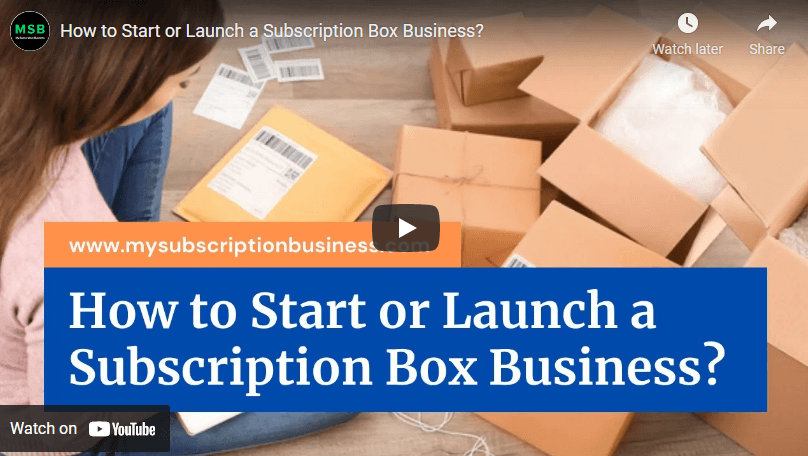 Infographic – The Ultimate Guide to Start a Subscription Box Service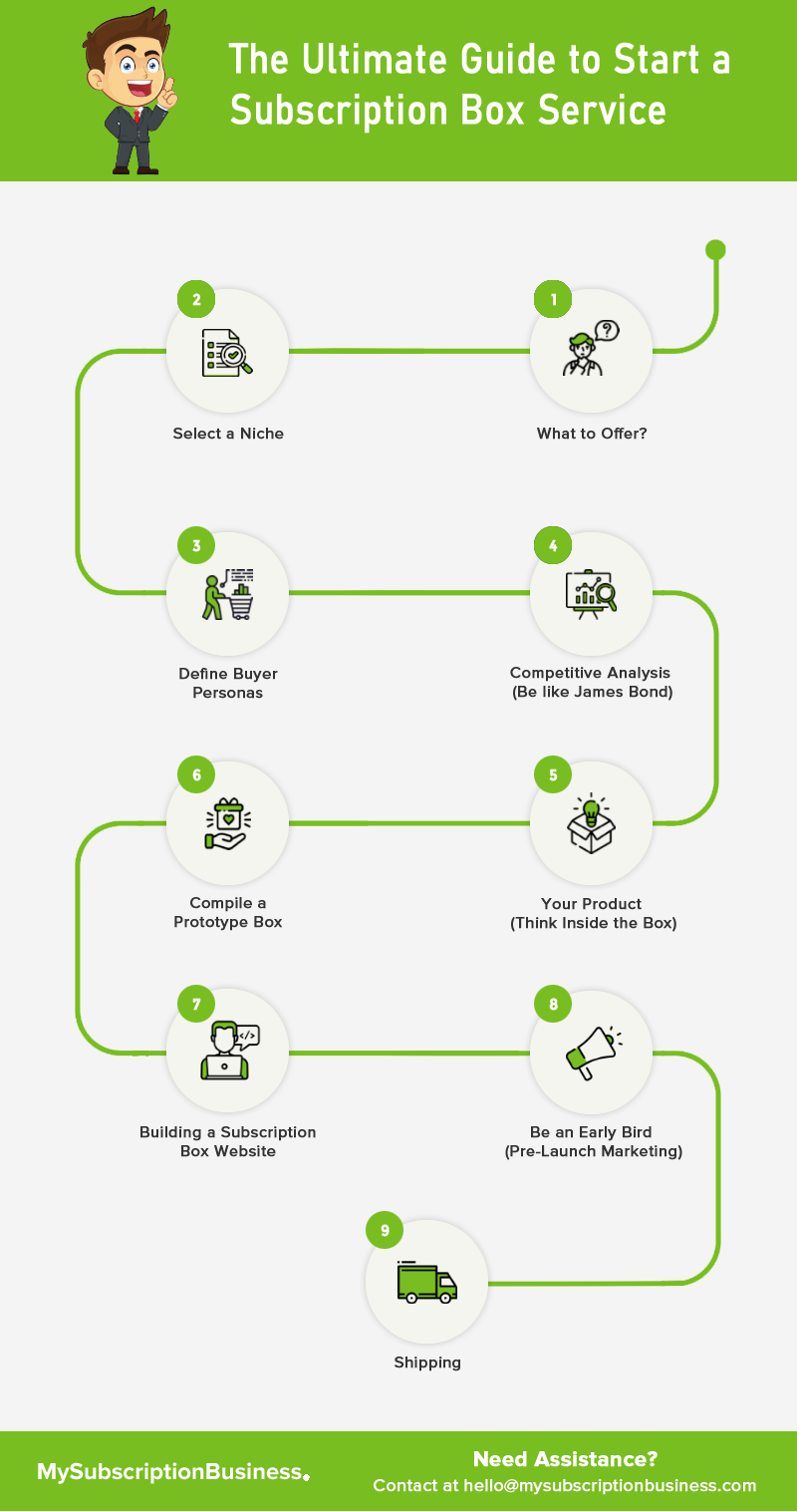 Need help with the idea, brand image, technology, or marketing consulting of your subscription or eCommerce business? Just drop us a line at hello@mysubscriptionbusiness.com and we will get back to you in no time. We, at MySubscriptionBusiness, are your go-to subscription business experts that have helped more than 70 subscription businesses gain popularity and run profitably.