As 2020 is here, there's already a lot going in your mind on how to boost subscribers for your Subscription Box Business this year. And with this deeply researched and subscription-business-focused Marketing "TO- DO- LIST", you are surely going to make a substantial change.
New Year is an auto-gear up for new fashion and a whole new beginning – it's a time when consumers are hunting for the perfect gifts, recipes, holiday destinations, shopping to support their resolutions, and meeting their new goals. This means they will be turning to friends, family, and the internet for recommendations in the first few initial months for a fresh start to a lot of things and goals – all with a lot of energy and ambition. 
So you already have a breakthrough to start with – you know that your potential customers are in zeal, you just need to package and market in a way that matches with their zeal, their 2020 goals. Because you already know your existing subscribers, you know what your Target Subscriber feels – their choices, their triggers, etc.
Now that you know your target subscriber well, start using the current trends of the activity or results around your product(s). For instance, if you sell pet products boxes, see what are the current trends in the pet product market, the seasonal requirements, etc. In case yours is a DIY activities-based box business, you need to include the festive trend related things. Similarly, if you are selling a fashion box for clothes and/or accessories or makeup/cosmetics, you need to check the current trends out and keep in mind the winter season in the US, UK and Asia regions and summer season in mind for the APAC region.
The point is to accumulate the current trends as well as the requirements together and match them up with your target subscriber's choices, just like you play 'match the lists', to come up with some good marketing, branding, offers and packaging ideas to draw attention of your new potential customers as well as your existing customers.
Take the New Year as an opportunity to make your Subscription box marketing campaign a HIT by reaching out to maximum potential customers, creating an impression so strong that they're taken aback in surprise and embarked to take an action.
If you're not entirely sure in which ways to achieve your phenomenon marketing goals, keep reading the quick points!
1. Website Updates:
Have you updated your Subscription box website with forthcoming occasioned promotions and does it look decorated for the Christmas and New Year festivals? If not – you are not late, do it now – the New Year can be celebrated for the entire month of January after all! 
2. Social Media Active:
Are you frequently posting New Year themed pictures on your Subscription box company's social media account pages? Are you promoting the offers? Are you wishing them properly?
P.S. Keep updating your cover and profile images according to the on-going themes.
3. Paid Promotions:
Are you running paid ad campaigns on social media and Google? – Create Seasonal Ads Campaigns – they really work and show you up on your potential customers' prefered internet destinations like Instagram, Facebook, Google, etc.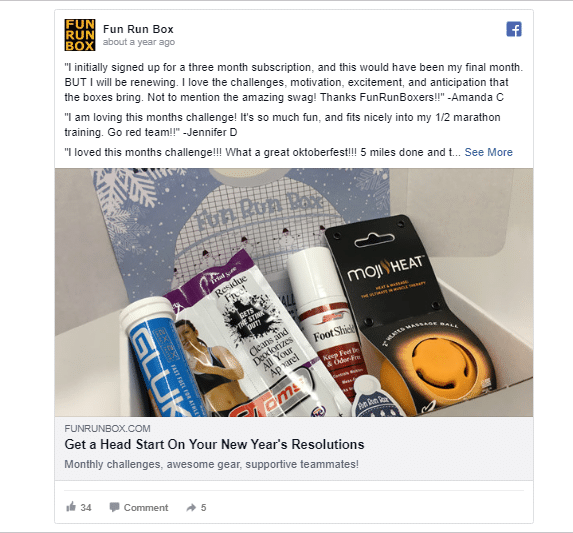 4. Email Campaigns:
Have you infused heart and humor into your emails for existing as well as potential subscribers? Are you sending out seasonal offers and discounts for new signups as well as your loyal customers?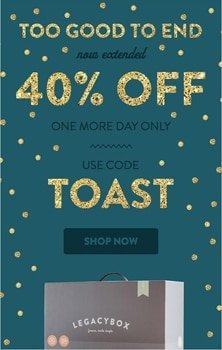 5. Influencers' Marketing:
Have you paired up with an influencer who is a swagger amongst your target group? – Influencers are like Santa, serving special to their loyal followers – they certainly consider what their influencers recommend. Grow Your Subscription Business through Influencer Marketing, this post might help you.
6. Profits and Margins:
Is your subscription box pricing strategy profitable on these special occasions? Have you planned properly before offering discounts and offers? 
P.S. Manage your profit margins and sales targets to avoid losses and remember, customers don't mind paying a little extra if they get something extra for special occasions.
7. Packaging and Surprises:
Have you customized your box packaging according to the festive-season theme? Your subscription box is the only thing that reaches 100% of your subscribers. So packaging the box with the interesting and personalized themes and including relevant products is an important step in making your subscribers feel a little more special.
P.S: Add a small surprise token as a surprise gift for your subscriber – a name badge, or a Happy New Year/2020 keychain, snack pack, sticker, diary, etc. can create wonders!
Last but not least, don't forget to analyze essential processes by detailing the stages. Assess how well your Subscription Box is performing – identify your strengths and areas that could be improved. Use those strengths to better your box performance and prepare a course of action to work on the improvements that you've identified.
To wrap up, 
Get your marketing strategies right just in time

Think ahead

Prioritize and balance
And don't forget to wish a Happy New Year to your Subscribers, Potential Customers as well as your Fulfillment Partners – it counts in all ways 🙂
Hope you have a great 2020 – full of subscribers!
Want to achieve better goals with subscription box business with customized and properly targeted subscription box marketing? Let us help you. Just write to us at hello@mysubscription.com or fill up this contact us form, and our subscription-focused marketing and technology team will get right back to you.